I looked across the still water to the mossy green island framed by reeds, the classic temple with its bouquets of fresh flowers, and the single name, "Diana", with dates for remembrance: 1961 to 1997.
Althorp, the historic home of the young Lady Diana Spencer, is her final resting place and my first stop in tracing the world of a mythical figure, twenty years after her death.
Nature seemed a worthy way to mark a solemn but sweet moment, like the visit on the eve of the solemn remembrance by Kate, William and Harry to the specially created White Garden at Kensington Palace.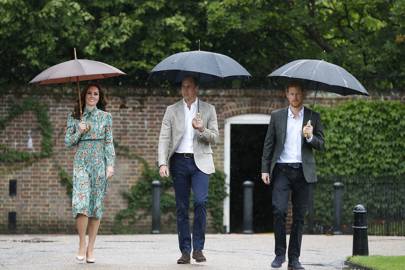 The Duchess of Cambridge, Prince William and Prince Harry visiting the White Garden at Kensington Palace on the eve of the twentieth anniversary of the death of Diana, Princess of Wales. The garden is planted with flowers and foliage reminiscent of Diana's unique style. -REX FEATURES
I had already visited the exhibition inside the royal building, devoted to Diana's language of clothes. "Diana: Her Fashion Story" tracks the evolution of her style from young aristocrat in a frilly, pale blue dress from society label Regamus for a ball at Althorp in 1979 to a sophisticated figure in a curvy, ice-blue sheath dress by Gianni Versace in 1991. From innocence to confidence in twelve years.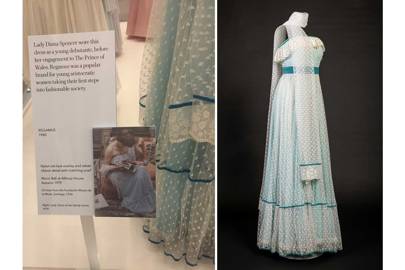 A Regamus dress worn by Diana as a debutante for a ball at her family home, Althorp House, in 1979 (see photograph, left). Currently on display at the Kensington Palace exhibition, Diana: Her Fashion Story @SUZYMENKESVOGUE , -LEFT AND HISTORIC ROYAL PALACES, RIGHT.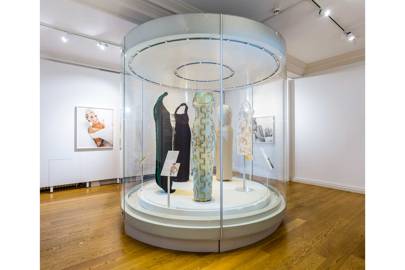 The Gianni Versace ice-blue sheath with gold embroidery sits among other notable gowns in Room 6 of Diana: Her Fashion Story, at Kensington Palace -HISTORIC ROYAL PALACES
"Following the separation from the Prince of Wales, she said she didn't want to be known a clothes horse but as a work horse," said Eleri Lynn, Curator of the Royal Ceremonial Dress Collection. "Each of the dresses is a mini biography… They tell us not just about the fashions and designers of the time, but about Diana's state of mind."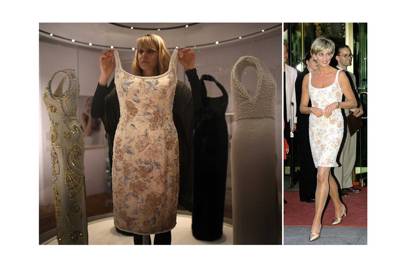 Eleri Lynn, Curator of the exhibition, Diana: Her Fashion Story, displays a Catherine Walker floral shift dress worn by Diana in 1991 to the Christie's Gala in New York (right) -GETTY
For all the fascinating flashes of character seen at the Kensington Palace display, tracing Diana's evolution from "Shy Di" to "Dynasty Di" and from fairytale princess to committed humanitarian, some of the most revealing comments come from interviews with her favourite designers, which form part of the exhibition. "She managed her look as if she had dashed in, slipped on a dress, combed her hair and run out again. In the end, it was all about her presence," said Bruce Oldfield about dressing Diana.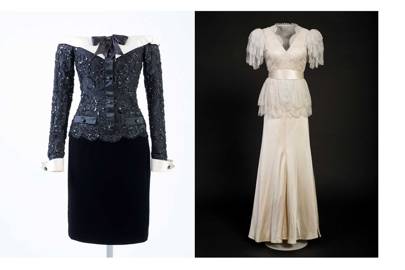 Left, a Bellville Sassoon silk-satin cocktail dress worn in 1989 to the Barbican, and right, a Bruce Oldfield satin and lace dress worn in 1990 and 1991 PHOTO HISTORIC ROYAL PALACES
Jasper Conran explained how carefully selected her fashion choices became. "Whenever the Princess discussed her clothes with me, part of it was always, 'What message will I be giving out if I wear this?' For her, that became the real language of clothes," the designer said. At Althorp, the Northamptonshire home of 19 generations of the Spencer family, the Georgian stables offer a summary of the Diana era. There, among artefacts and souvenirs – including children's drawings and a book of Lord Spencer's speech at the funeral of his sister – are photographs of Diana taken by Mario Testino in 1997, the year of her demise.
These images, originally for Vanity Fair magazine, draw out her personality – but not her clothes. With hair brushed short and her left hand bare of any ring, Testino's compelling photographs put in second place her pearl-embroidered satin dress by Catherine Walker. The designer, who died in 2000 but whose company celebrates 40 years in 2017, was foremost at reflecting Diana's changing spirit. The Althorp pictures are meaningful because they seem to have captured the "real" Diana; a woman who had come through from young bride to maturity, emerging as her own woman.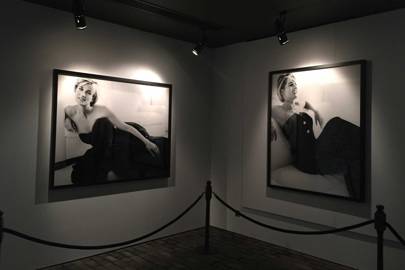 Mario Testino portraits of Diana wearing Catherine Walker, on display at her family home, Althorp House PHOTO @SUZYMENKESVOGUE
When I asked Mario Testino how he felt now about Diana and those pictures, he gave a pertinent reply. "My father used to tell my mother that she made her dresses look good, and not the other way around," Mario said of the pictures that have a permanent place in MATE, the Museo Mario Testino in his home city of Lima, Peru.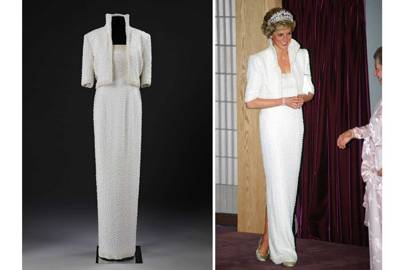 The Catherine Walker pearl-embroidered "Elvis" dress and matching bolero worn on the official visit to Hong Kong in 1989 PHOTO HISTORIC ROYAL PALACES (LEFT) AND GETTY
"I grew up understanding that some people make clothes look better than others," the photographer said. "I guess it is a quality we find easily in 18-year-old models because of the way clothes hang on them, but this becomes much rarer with age. Princess Diana seemed to have had this quality. What was most magical is that it came together with a certain shyness, which made it truly unique."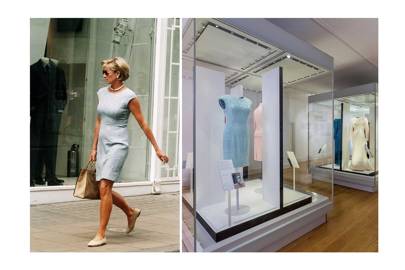 Diana shopping on Bond Street in London in 1997 (left), wearing a Catherine Walker shift dress that is on display at Kensington Palace in Diana: Her Fashion Story (right) PHOTO GETTY; HISTORIC ROYAL PALACES
Lord Spencer himself admired the photographs of his sister, saying "These images made a huge impact on me when I saw them first, and revisiting them now, twenty years later, seems a fitting tribute to my beautiful, fabulous sister." So who are these Spencers? Walking through Althorp, from the stables to the grand home of Diana and her siblings and so many generations before, I was looking for clues to her development and what might have influenced her original style.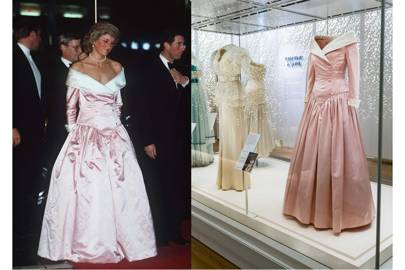 A pink satin evening gown with white raw silk collar and cuffs by Catherine Walker. When the Princess posed for an official 1987 official portrait by Terence Donovan, she needed a dress that would hold its own next to The Prince of Wales's ceremonial uniform (see below). Catherine Walker devised this stately and formal gown for Diana, with classic tailoring in an overtly feminine style. She also wore it to the official visit to Germany in 1987 PHOTO GETTY; HISTORIC ROYAL PALACES
The enfilade of rooms dating back 500 centuries included paintings of Spencers galore; the Empress of Austria; a family friend who was stabbed to death; portraits of cows; and the Marlborough dining room, seating 42 at a long table dressed with elegant crockery, which occasionally was given as gifts to important visitors.
I imagined Diana walking through the grand bedrooms – all 27 of them, according to James Ward, the Guest Liaison Manager who showed me around and invited me to tea in the graceful drawing room overlooking the lush green gardens. That was after he had shown me a line-up of Rubens paintings, told me the story of American heiress Consuelo Vanderbilt's marriage to the Ninth Duke of Marlborough, and invited me to attend the Althorp Literary Festival, from the 5th to 8th of October. The most intriguing paintings included in a roster of Royalists were six ladies known as "the Windsor Beauties", because they were all mistresses of Charles II. So each time the King visited Althorp, his current love had a portrait made to hang on the wall.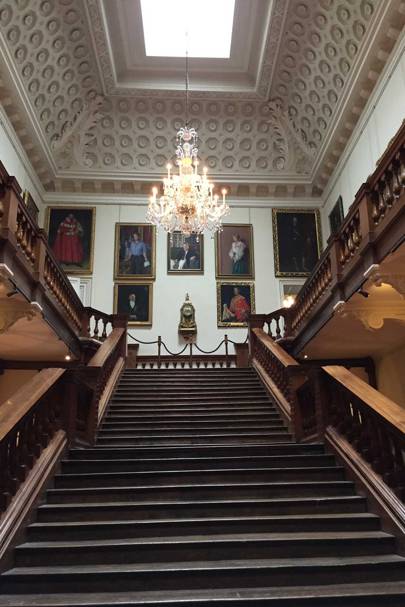 The main staircase at Althorp House, Princess Diana's family home PHOTO @SUZYMENKESVOGUE
Ah! Is this picture gallery where Diana found her early enthusiasm for frills and curving bust lines? That can be seen in her ingénue dresses and in the 1994 portrait of the Princess in a flurry of white by Nelson Shanks, hanging beside paintings of her father, brother and more ancient relatives at the top of the imposing staircase in the Palladian hall.
At the Kensington Palace exhibition, the early "Stepping Out" room shows a young woman who shared an apartment – and her wardrobe – with friends from the same upper class. Selected by Vogue as an upcoming society beauty, Lord Snowdon photographed Diana in a frilled blouse by David and Elizabeth Emanuel, who went on to make the fancy royal wedding dress.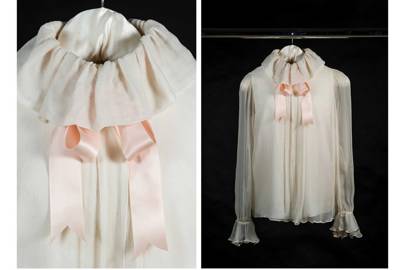 The chiffon blouse with satin ribbon necktie by Emanuel, which Diana wore for a society photoshoot with Lord Snowdon for Vogue, February 1981. The publication of the photographs coincided with the announcement of Diana's engagement to Prince Charles and then became known as her first official portrait PHOTO HISTORIC ROYAL PALACES
"Diana turned up at Vogue and picked the blouse off a rail of clothes, and because it coincided with the engagement announcement, it became the unofficial portrait and the definitive Lady Di look, with that soft collar," the curator said.
In another official photograph from 1987, a pale pink Catherine Walker gown, with its white collar and cuffs and portrait neckline, proved that the Princess was still under the spell of those low necklines – as did the plunge-front dress in ink-blue velvet by Victor Edelstein in which Diana danced with John Travolta in 1985.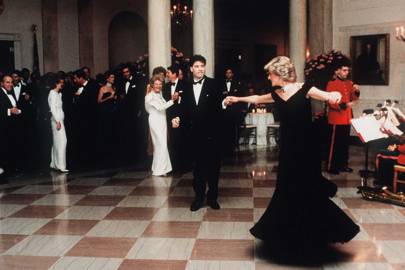 Diana chose a Victor Edelstein midnight-blue velvet gown to dance with John Travolta at The White House in 1985 PHOTO GETTY
Eleri Lynn sees the change from the upper-class "bows and ruffles" Lady Diana to the "Dynasty Di" phase as the beginning of a deliberately planned fashion language. "She was very active in the creation of her image and she used fashion to convey the messages, to communicate, and use it to do the job at hand," the curator explained.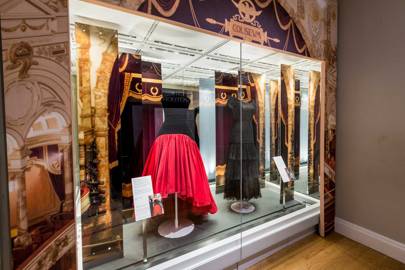 A Murray Arbeid velvet and taffeta evening dress worn by Diana, Princess of Wales, in 1986 and 1987. Currently on display at the Kensington Palace exhibition, Diana: Her Fashion Story PHOTO HISTORIC ROYAL PALACES
The ever-changing images of the much-photographed Diana moved after her separation and divorce out of the realm of fashion and into a world of visual theatre. When she conspicuously removed a pair of gloves – that she so rarely wore – to shake hands with an AIDS sufferer, she was making a public statement.
And it was to raise money for AIDS and cancer charities that Diana put her iconic clothes on sale in 1997, with Testino taking the pictures of outfits she had worn in her previous royal life. Why did she sell them? She had achieved her aim: To speak through her clothes – but not to be dominated by fashion.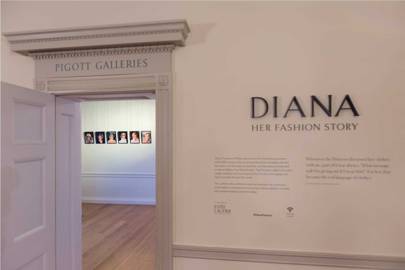 The entrance to Diana: Her Fashion Story at Kensington Palace. The exhibition features some of the most memorable outfits worn by Diana, Princess of Wales, as well as photography of the occasions on which she wore them PHOTO HISTORIC ROYAL PALACES
"Diana: Her Fashion Story" is at Kensington Palace until December 2018 (although some exhibits may have to return to their owners). There are seasonal opportunities to book tickets – the current season ends 31st October, the next season opens 1st November until end-February 2018; further seasons to be announced. Visit www.hrp.org.uk
ETİKETLER: LADY DİANA , CAMBRİDGE DÜŞESİ , PRENSES DİANA